Cheapest Tour Packages For Kashmir

We Provide both Luxury and Cheapest Tour Packages for Kashmir as per your Budget. Kashmir Holiday Packages are categorized in a different set of budgets if you're trying to find the cheapest tour packages for Kashmir then the rock bottom category comes with standard hotels then subsequent to plain comes Deluxe Hotels then 03 Star hotels, 04 Star Hotels then the posh one 05 Star Hotels. We at Green Kashmir Travels provide you with the best rates for your Kashmir Trip. Jammu Kashmir Tour Packages are selling like hotcakes, thanks to its weather, if we mention winter then Gulmarg is the best place for winter sports if we mention summer then you've got an option you'll either visit Kashmir or Ladakh both places has its importance. Kashmir is famous all over the world due it"s breathtaking views.
Jannat e Kashmir
04 Nights / 05 Days
Explore Paradise
05 Nights / 06 Days
Charismatic Kashmir
06 Nights / 07 Days
Kashmir Holiday
Packages
03 Nights / 04 Days
Kashmir Tour Packages

Book Your Kashmir Tour Packages with Green Kashmir Travels. We Customize Your Kashmir Tour Plan as per your requirements or you can book our some of the best selling Kashmir travel packages mentioned below. If You Looking for a Kashmir Honeymoon package, Book our Kashmir Package with Honeymoon Inclusion, We Make your Honeymoon arrangements in such a way you will remember it for your lifetime. We Provide Specials arrangements Like Cake, Flower Bedding, Candle Light Dinner, While Your Stay in Houseboat. We are awarded as one of the best travel agents in Kashmir. We assure you best service during your Kashmir Tour. Plan Your Holidays In Kashmir With Us, We will make your Trip memorable, our experts are available 24x 7, to answer your queries.  You can simply email us or call on the mentioned numbers, our experts will be in touch with you shortly.
Best Tour Packages Of Kashmir

We provide Best Tour Packages for Kashmir from Bangalore, Chennai, and other states of India. Looking for best tour packages for Kashmir then you ought to take 05 Nights and 06 Days Kashmir Packages or 06 Nights and 07 Days Kashmir Packages or 07 Nights and 08 Days Kashmir Tour Packages, In these packages you'll visit all the main destinations of Kashmir like Srinagar Local Sightseen, Stay in Gulmarg, Stay In Pahalgam, Stay in Sonamarg, and you'll explore these place without the restriction of your time and that we suggest you visit Kashmir During March to August if want to ascertain most of Kashmir but if you're keen to ascertain snow then Dec to March are going to be the best time in which you'll experience live snowfall also. Kashmir is famous round the year beat it summer or winter, Below are some of the best Kashmir holiday Packages.
Vaishnodevi Kashmir Tour
07 Nights / 08 Days
₹15,500/-
Kashmir Honeymoon Trip
05 Nights / 06 Days
₹ 14,000/-
Explore
Kashmir

08 Nights / 09 Days
₹ 19,500/-
Fabulous
Kashmir
06 Nights / 07 Days
₹ 12,900/-
GLIMPSE OF KASHMIR HOLIDAY PACKAGES AND KASHMIR TOUR PACKAGES
Book your Kashmir Holiday Package and discover Mesmerizing lakes, snow-capped Mountains, awe-inspiring meadows, and alpine scenery. Important pilgrimage sites form the major locations of J&K, one of the most popular tourist destinations in the world. Red Apples, Red Cheeks, Ruby Weather, heart throbbing scenery are the key features of Kashmir. Kashmir the Real Paradise on Earth that prevails in the benign valley of Kashmir often disheartens those with humble hearts. Kashmir gives you millions of reasons to celebrate its existence. A picture-perfect scene with snow-clad mountains, sparkling lakes with sailing shikaras. A bunch of colorful tulips and steady houseboats inflate the lungs of the onlookers. The northwestern province of the Indian subcontinent renders the opportunity to experience the onrush of scenery closely. The Valley renders opportunities to experience nature's best. We offer the Best deals For Kashmir Tour Packages, Kashmir Packages, Leh Ladakh Packages, and Kashmir Holiday Packages.
Experience the Authentic Valley dominated largely by long stretches of Scenic Mountains. The Valley covers an area of 224,739 sq km. The Great Himalayan range separates Kashmir from Ladakh, whereas the Pir Panjal range confines it as a valley by drawing a border and separating it from the northern plains an ideal destination for Kashmir Holiday Packages. We are highly recommended travel agents for customizing Kashmir tour Packages and Leh Ladakh Packages. Follow us on Twitter, Facebook, GooglePlus
Popular Kashmir Holiday Packages:
Cheap Kashmir Tour Packages
Price
(Per person on twin sharing)
Nights
Inclusions
 
Glimpse Of Srinagar
Rs ₹ 7,500/-
GKT 4N-5D
Meals , Accommodation , Transfer , Sightseeing
Glorious Kashmir
Rs ₹ 10,800/-
GKT 5N-6D
Meals , Accommodation , Transfer , Sightseeing
Fabulous Kashmir
Rs ₹ 12,900/-
GKT 6N-7D
Meals , Accommodation , Transfer , Sightseeing
Explore Kashmir
Rs ₹ 16,000/-
GKT 7N-8D
Meals , Accommodation , Transfer , Sightseeing
Vaishnodevi Kashmir Tour
Rs ₹ 15,500/-
GKT 7N-8D
Meals , Accommodation , Transfer , Sightseeing
Kashmir Honeymoon Trip
Rs ₹ 14,000/-
GKT 5N-6D
Meals , Accommodation , Transfer , Sightseeing
How To Choose Affordable Kashmir Holiday Packages:
Choose your dream destination.
Do your research. When will you be going?
Check your passport and visa requirements.
Protect your holiday. Take out travel insurance.
Book flights and accommodation.
See your doctor.
Pack your bags.
Plan how you'll get around.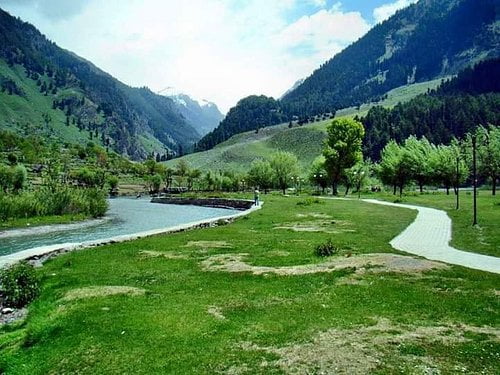 FAQs About – Green Kashmir Travels
What is the best time to visit Kashmir?
Best time to visit Kashmir is during the months of March to August. Tourists come to Kashmir valley so they too can witness this 'heaven on earth' and enjoy all that it offers. During this period two seasons are covered in Kashmir. Spring (March to early May) and Summer (early May to late August).
Is it safe to go to Kashmir today?
It's been declared off-limits to tourists on a number of occasions. There have also been a few isolated incidents, with Srinagar and other parts of the Kashmir Valley being temporarily shut down. However, tourists always begin returning after peace is restored.
How can I plan a trip to Kashmir?
For a spiritual experience, opt for a trip to Vaishno Devi Temple or the cave shrine of Amarnath. Go trekking in the Himalayas in the summers or visit Pahalgam, Sonamarg, and Gulmarg for skiing in winters. Pick our land-based Jammu and Kashmir packages to enjoy an adventurous road trip to Ladakh via Manali or Srinagar.
Can we visit Kashmir in May?
Spring, March through May, is the best time to visit Kashmir for a honeymoon as the flowers in the famous Mughal gardens in Srinagar are in bloom. Early spring till mid-April, which is also the offseason in Kashmir, is ideal for those looking to get the best deals on hotels in Kashmir.
What is the highest tourist place in Kashmir?
The zero points at Sonamarg is one of the most elevated vacationer places in Kashmir. Sonamarg is around 80 km from Srinagar and the zero points is around 35 km further.
Do I require a Covid-19 PCR-RT test report while visiting Kashmir?
You Can Visit Gulmarg, Pahalgam, Sonamarg, Yusmarg doodthpatri as destinations, however, there is a restriction in visiting Mughal Gardens in Srinagar. Rest all famous place as mentioned earlier open for visit. Kindly find the below-mentioned measures that hotels need to implement for safe and secure travel. All travelers traveling out locally to Kashmir should go through warm screening before they can enter Kashmir. If the temperature recorded is higher than the necessary number, you will be approached to take a Covid-19 RT-PCR test for which you will bear the expense of the test, or sometimes it is done free of cost. If Negative you will be allowed to continue your tour, If the result shows positive, the state protocol for Covid-19 will be followed. It is mandatory for everyone to wear a mask in public and you may incur a fine or penalty.