Whether you are looking for a holiday, a vacation or a short break, you can be sure that Kashmir is a great place to visit. Located in the Indian state of Jammu and Kashmir, it has been a sought-after tourist destination since British era.
Gulmarg
Located in Baramulla district of Jammu and Kashmir, Gulmarg is a hill station that has a breathtaking natural setting. It is also popular for its snow-covered terrain. In addition to its natural beauty, it also provides visitors with a wide range of adventure activities.
Gulmarg is a popular destination among trekkers and adventure seekers too. The scenic attractions, including the scenic Alpather Lake, Khilanmarg, Kongdori and Botapothri Valley.
The mountainous terrain is perfect for skiing. It has a significant population of animals, including leopards, musk deer and more. The biosphere reserve is home to exotic species. It is also a popular destination for Off-Piste skiing, snowboarding and ice skating. There are many experienced trainers who can show tourists the ropes of this thrilling sport. The best season to go skiing in Gulmarg is between mid-December and February.
Srinagar
Having been called the "Venice of the East" by travelers, Srinagar is a destination that offers plenty of beauty and surprises. Located on the banks of the Jhelum River, the city is full of Mughal-era gardens that are both romantic and blissful.
For travelers who want to take a tour of Srinagar, it is recommended to make reservations in advance. A five-day itinerary is recommended. The best time to visit Kashmir is during summer, when the alpine meadows are at their most picturesque. Also, consider the fall season, when the gardens blossom and the rivers flow with a rainbow of color.
If you plan to visit Srinagar during the winter, it is important to pack appropriate winter clothes. Winters in Kashmir are cold and heavy with snowfall. Also, a winter jacket, gloves, scarf and hat are essential. You will also need to carry medicines and a torch.
Kupwara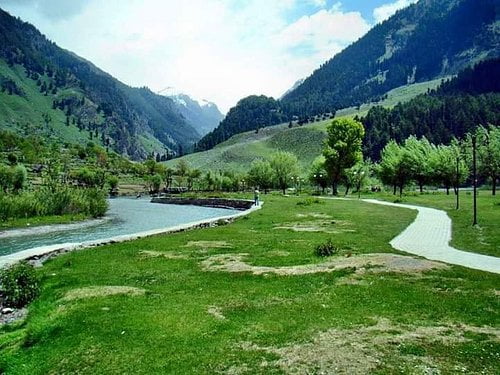 Among the tourist spots in Kashmir, Kupwara is a good base for exploring the beautiful valleys in the region. The town of Kupwara is situated at an elevation of 5300 feet and provides excellent views of the surrounding valleys and mountain ranges. It is also home to a large number of wildlife and plant species.
The famous places of interest for tourists are Bungus valley which comprises of Chota Bungus and Bada Bungus, Raagni Valley, Chandigam which is famous spot for trout fising. The other famous site is Sat Bran which is an ancient rock with 7 doors and the famous caves of Lolab known as Kalarus. There are many religious sites like Ziarat -i- Baba Abdullah Gazi, Kheer Bhawani Asthapan, another popular religious site in Kupwara is the Prakash Akhoon shrine, which is located at Gushi, about three kilometers from the town. This shrine is also home to an enshrined image of Shiva.
Pulwama
Located in Jammu and Kashmir, Pulwama is one of the most popular destinations for tourists. The place is filled with waterfalls, lakes, apple orchards, and natural springs. It is also famous for its saffron cultivation.
The best time to visit Pulwama is during the months of April to October. This is the time when the snow melts and the weather becomes warmer. But the winters can be chilly. During these months, you may have to spend extra time travelling to get to the destination.
If you are planning a trip to Pulwama, you should book your accommodation in advance. There are many hotels and budget hotels in Pulwama. You may also choose to stay at homestays. These are popular among families and adventure seekers.
There are many restaurants in Pulwama. You can try the best local cuisine. Some of the famous dishes include Rogan Josh, Kashmiri Naan, and Modar Pulao. You can also find many vegetarian options.
Indira Gandhi Memorial Tulip Garden
Located on the foothills of the Zabarwan range of mountains in Srinagar, India, the Indira Gandhi Memorial Tulip Garden is Asia's largest tulip garden. It opened to the public in 2007. It was originally a Model Floriculture Center, an effort to increase eco-tourism in Kashmir. The garden was renamed after Indira Gandhi in 2007. It is now a 12 hectare garden that is adorned with 70 different types of tulips.
There are seven terraces in the garden. Each flower bed is around one meter wide. It is also decorated with other kinds of flowers and ornamental plants. This is one of the most popular tourist attractions in Kashmir. The garden is open from March till the end of April.
The Tulip Garden has a flower bed of around 80 meters. There are around 1.5 million Tulips grown here annually. Its bulbs were brought from Amsterdam.
The best time to visit the Tulip Garden is between the weeks of March and April. The weather is generally favourable during this time.
Anantnag
Whether you are a nature lover, a trekker or a honeymooner, Anantnag is the best place for you to visit. It is a beautiful city surrounded by nature, which has some of the best hotels and resorts in Kashmir. The best time to visit Anantnag is during the summers. During this time, the climate is perfect for sightseeing and the weather is pleasant.
The Aishmuqam shrine is one of the most popular tourist destinations in Anantnag. It is also home to a famous Hindu temple called the Goswami Gund Ashram.
Anantnag also has a natural lake called the Tulian Lake. The lake is frozen during the winters, but can be accessed during the summers. It is surrounded by towering mountains and can be reached by a horse ride or a two-day trek.
Kargil
Located in the Ladakh region of Jammu and Kashmir, Kargil is the second largest town in the region after Leh. The city is located on the banks of the Indus River, which is a major tributary of the Kashmir Valley.
Kargil is a peaceful town in a serene and scenic setting. It offers opportunities for sightseeing and is one of the most popular tourist spots in Jammu & Kashmir. Kargil is also famous for its traditional artefacts and handicrafts. It is also known for its woolen and elegant attires.
The main street in Kargil is called Lalchowk and is the main city centre. It is also known for the sale of dry fruits and apricots.
There are several holy Buddhist sites in Kargil, including Karsha Gompa and Stongday Gompa. It is also home to a nine-metre tall Maitreya Buddha statue at Mulbek (35 kms from Kargil). The Rangdum Monastery is one of the highest monasteries in Ladakh. It is considered to be one of the eight holiest Buddhist sites in the world. The Monastery also houses a number of ancient collection.
Kargil is also renowned for its mountaineering, the famous among them being the Nun & Kun Base camp trek.
Leh
During your Kashmir tour, you will also visit the exotic Ladakh region. Ladakh is a mountainous region of eastern Himalayas. This place is famous for its breathtaking beauty. It is also known as the 'Little Tibet'. Here, you will find the highest motorable road in the world.
During your tour of Ladakh you will visit Leh where you will be able to see some of the oldest monasteries in the region. These monasteries were constructed during the 11th and 12th centuries. You will also be able to see murals from those times. These paintings are pre-Tibetan in style.
There are several temples and shrines at the Hemis monastery. It is a Buddhist center that houses many shrines. This place has a great collection of Buddhist art treasures.
You can also visit the Likir monastery. This monastery is a must visit in Ladakh. The monastery is very famous among tourists and is a great viewpoint in the region. It is also a place of meditation.